??by?
?
HikingArtist.com
?
Twitter has a combination of casual users and online marketers. Regardless of your objectives on the social media site, it is still advised that you avoid a number of annoying and disruptive habits on Twitter. Some people have been suspended or banned due to these annoying practices online. Learn how to post good quality content and respect other users to keep the environment friendly and beneficial for all.
1. Copy-pasting
There are a number of Twitter users who simply copy and paste other people?s tweets then claim these as their own. Learn how to use the RT or retweet function instead to acknowledge other users? original tweets and works. It is very disrespectful to take the ideas of others. Some people also tend to simply change a few words to make it seem as if they created the original post.
2. Recycling quotes and jokes
It is acceptable to post quotes and old jokes once in a while but frequently copying these off various websites can compromise your reputation. Learn how to post original and witty comments and take your cue from the social media experts. Find out what types of posts get the most retweets and replies, decide on the personality you want to adopt for your account and then tweet away. Keep jokes to a minimum and make sure that quotes and other shared statements are relevant to the main topic or issue.
3. Spamming
Spamming
is described as posting the same message indiscriminately to large number of Twitter users. Some advertisers do not realize that their activity is already considered spamming. Avoid this immediately to avoid suspension or getting banned from Twitter.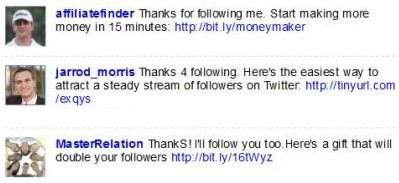 4. Focusing only on yourself
Many like to take self photos, photos of their dinner or tweeting what they are currently doing without any relevance to any significant issue or being a part of any event or industry. Always consider how others feel about what you?re posting because many times, people could not care less.
5. Laughing or commenting on your own jokes or tweet
Aim for social media engagement instead of being the one who tweets and responds at the same time. It would hurt your online reputation if it seems as if you can?t warrant any form of social media engagement. Post original tweets and talk about relevant or interesting issues to gain more followers or encourage conversation.
6. Using too many hashtags
Hashtags
are very useful when tweeting. However, some people indiscriminately use 5 or more in a single tweet just to reach the 140-character limit. Use 1 to 2 hashtags at most to provide additional information to the tweet. Also, when starting a hashtag, try to maintain the conversation within topic to enhance your reputation.

7. Long conversations
There is a DM or direct messaging function on Twitter where you can chat with friends and followers without limits. This is the proper venue for lengthy conversations. Do not use Twitter as a diary or to talk to someone about your whole plans and other matters that most online users don?t need to know about. Also use correct spelling and grammar as much as possible while staying within the 140-character limit on Twitter. Follow these rules accordingly and stop the bad habits as soon as possible. Don't be the annoying user everyone wants to unfollow.