??by?
?
quinn.anya
?
Hashtags are very helpful online tools that will improve your reputation online as well as guide you to the right topics. If you?re new to Twitter or hashtags, learn the basics first to ensure success.
1. What are hashtags?
Hashtags
are conversations or trending topics on Twitter and other social media networks that are arranged categorically. These were created to help people search and participate in their topics of interest. The hashtags or topics are preceded by the ?#? symbol which will easily guide online users.
2. How can you start posting hashtags?
You need to
create an account on Twitter
. Post a tweet then include a hashtag that relates well with the topic. For example, ?Lakers win over Celtics 95-85 #Lakers2013?. The hashtag should properly describe what the conversation will be about. It?s recommended to be very specific when making these to adequately guide others and bring in only relevant participants.
3. How often should you post hashtags?
Try
posting 2 to 3 hashtags at most
in each tweet. You can include hashtags in each of your daily posts although it is recommended to stick to particular topics so you can monitor and share good quality content every time. Also join in other hashtags if these are associated with your own created topics. Putting too many hashtags can be distracting and even annoying to many users. This is a good post.

This post has too many hashtags to be taken seriously.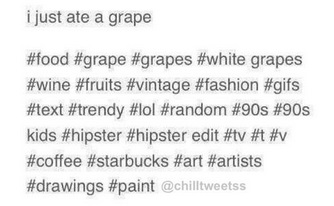 4. How should you make hashtags?
The hashtag should properly describe the topic. Include one to three words at most and use proper capitalization and numbers as needed. For example, if you?re describing an upcoming event, make a hashtag like ?Maroon5AprilConcert? or ?ThanksgivingTurkey2013?. These will immediately give people the information they need to decide whether or not to join the conversation even without actually entering it.?Also avoid using very long hashtags since these can only confuse online users.
5. How do I bring in more people to my hashtags?
Invite people to join
. Tag and thank them after each successful trend. Also post good quality and unique content every time. Keep the exchanges on topic every time by asking for the aid of other moderators. Also participate in other hashtags if these are related to your online goals and business. People will be more likely to join your conversations if you also provide a good and complete profile.
6. What can I do to trend better?
For your hashtags to trend well on Twitter, use a variety of tools and features that will increase the excitement of online users. Host online contests, upload useful media content like photos and videos and provide links. Putting links actually increases social media engagement and increases the likelihood of hashtag success. Also tweet about the hashtag to let more people know about it.
7. How can I monitor hashtags?
There are
social analytical tools online
that will help you gauge the success or trending of your hashtag. You can determine the peak periods, the people who actually joined and discussed the topic as well as the frequency of the tweets. The information you acquire from hashtag tracking tools will be helpful in boosting your online business as well as adjusting future business strategies.