??by?
?
Josh Russell
?
When using Twitter for the first time, tailored suggestions will come in very useful since these grow your network quickly. You get to follow accounts that are truly relevant to your specific
social media campaign
or objectives. Even current Twitter users can benefit from the feature.
Definition of Tailored Suggestions
Tailored suggestions are recommendations of accounts that you might be interested in following on Twitter. These are
helpful for beginners
and even long-time users of Twitter who wish to start creating a list and adding accounts to follow in the network. Twitter will search for accounts that you will most likely be interested in based on your preferences and online activities. You can then
expand your network
and get and share information even after being a part of Twitter for only a few hours. You can find tailored suggestions as soon as you sign up. Twitter will present a list of accounts that may be helpful in your online objectives. You can choose to or not to follow the suggested accounts.

Current users can still make use of tailored suggestions featured in the Who to Follow list. Even if you are already following several accounts on Twitter, tailored suggestions will still be useful in
identifying more key individuals
that will be relevant to your social media plans.
The Advantages
Tailored suggestions provide a number of benefits such as finding accounts that are truly relevant and provide accurate and specific information that is related to your industry or online purposes. Beginners can save time when making a timeline that best relates with their interests and objectives. Tailored suggestions are identified by Twitter based on your online activities. Twitter will
determine your interests and preferences
based on the websites you visit and the people or things you search for using Twitter. Twitter will also identify accounts that are related to the individuals you?re following or are frequently followed by others within your network. Twitter uses widgets and buttons from other companies online to identify the websites that you frequently visit. Twitter has buttons or widgets in several pages and places on the internet so the social media network can acquire information from you, as well as from any of its millions of users to determine compatibility and other similarities. The cookie technology is generally used to acquire information from users. You and your Twitter contacts and friends will leave traces all over the web which can be sorted out by Twitter to give you accurate and relevant tailored suggestions. The information you leave is generally stored by Twitter for a limited period of 10 days, depending on the type.
Unavailable or Turned Off Tailored Suggestions
You can also turn off the feature to simplify your Twitter experience. Basically, just uncheck the box for Tailor Twitter based on my recent website visits in the account settings. This is found beside Personalization.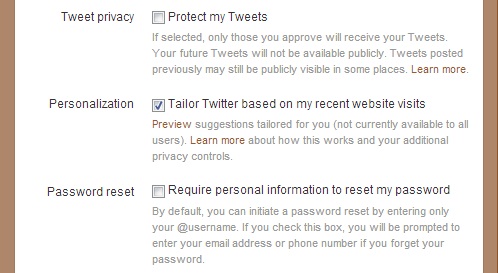 The information collection process will stop as soon as you log out of Twitter. It will resume when you log back in. You can further activate the browser to stop tracking. The preview page also provides an option to shut off the information collection. Some online users might discover that tailored suggestions are not available in their area. Users in Europe do not have the feature and there is also no information collection in their area but Twitter is currently testing the feature. Some users will also need to wait for a few minutes to view tailored suggestions on the preview page if they recently exited or turned off the option.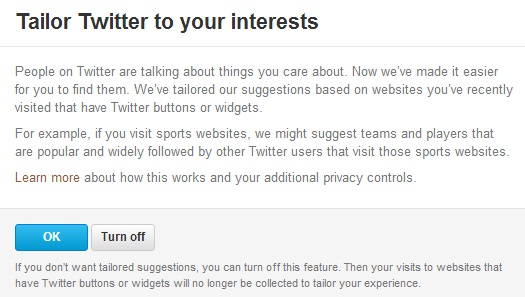 More Uses for Tailored Suggestions
To get more useful and accurate information tailored suggestions also make use of accounts that are usually visited by other online users to sites that you?ve visited in the past 10 days. Twitter, however, is careful not to
suggest accounts
that are deemed sensitive. The compatibility is also determined based on the user?s existing network. Twitter does not use the information for advertising and does not intend to. The information is primarily intended to help online users grow their network more effectively and for beginners to have an easier time using the social media site. The information is not sold to third parties as well. Twitter uses a variety of processes and systems to stay protected from unscrupulous agencies and also exercise security measures against third parties for the best interests of its users.
More Things to Expect
Tailored suggestions generally help you
create a good timeline
, complete with links, media content and Tweets about issues and topics that you and your network are interested in. Twitter is constantly improving its approaches so that you get specific suggestions that will be useful to your many goals online. Twitter aims to provide you with relevant privacy choices so you have the option of shutting off the feature. Current users can continue to expand their network and meet other experts in the field. The tailored suggestions can also help you clean and organize your current list of accounts being followed.